Special Feature - Showcasing the Ultimate Excellence of GBA 2021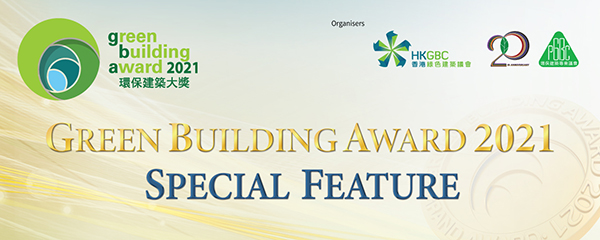 [Special Feature of Green Building Award 2021]
Showcasing the Ultimate Excellence of GBA 2021:
With the theme of 'Shaping Liveability • Excellence in Sustainable Built Environment', the award presentation of Green Building Award 2021 (GBA 2021) jointly organised by the Hong Kong Green Building Council (HKGBC) and the Professional Green Building Council (PGBC) was held on 28 April 2022 with over 700 guests attending online to celebrate with all the Award Winners!
In order to recognise projects and organisations that demonstrate elegantly, durably and innovatively the principles for sustainable built environment, a series of GBA 2021 showcases will be highlighted through this Special Feature in the coming weeks.
GBA 2021 received an overwhelming support from the industry with a record-breaking number of 100 nominations. Among the 80 Finalists, 39 Award Winners were announced at the Ceremony which included 4 Pioneer Awards, 10 Grand Awards, 23 Merit Awards and 6 Special Citations on United Nations Sustainable Development Goals.
Please click HERE for the full list of Award Winners. The valuable information of all the participating projects and organisations has also been compiled in an eBooklet. Don't miss the chance to see all these pioneering ideas and solutions for shaping a liveable built environment!