Sponsorship
Become Green Building Award 2021 Sponsor now!
Join us as a collective force to foster the development of a liveable and sustainable built environment. As a sponsor, you will not only show your strong commitment in sustainability but also enjoy a series of benefits.
PUT YOUR BRAND FRONT AND CENTRE
- Elevate your brand visibility through the comprehensive online and offline exposure opportunities
LEAD THE GREEN TRANSFORMATION
- Contribute to the prestigious green building award and expand your influence to the next level
STRENGTHEN YOUR INDUSTRY CONNECTION
- Reconnect and enhance quality relationships with key industry players and professionals at the Award Presentation Dinner
Please click the image below for full details of the Sponsorship Package (Virtual Award Presentation Ceremony Version)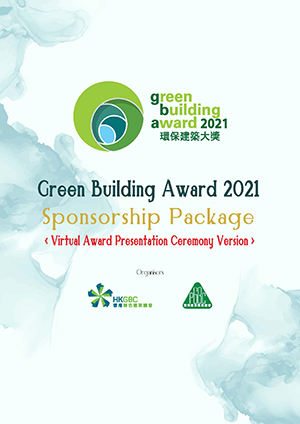 ACT NOW!